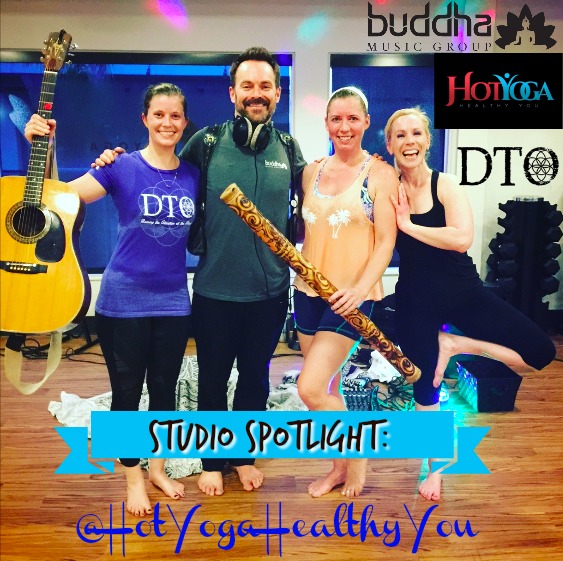 5Q Interview with @HotYogaHealthyYou
5Q Interview with Kathie Sonner, Owner of Hot Yoga Healthy You!
Tell me about your personal journey with yoga. Why is it important to you?
Interestingly, I didn't think I liked yoga. I tried a class or two 10+ years ago and didn't feel like it did anything for me. When I discovered a heated yoga class, at a friend's recommendation, the world of yoga opened up within me. There was something so deep and meditative about the heated climate; an exercise of the mind as well as the body. I was absolutely hooked by my 5th class and knew I would open a studio in my town. I wanted to invite my friends and neighbors to explore the healing and meditative qualities of hot yoga & all the amazing benefits.
Tell us about Hot Yoga Healthy You:
HYHY is nestled on the edge of RedHawk in South Temecula; in the south west corner of the Stater Bros shopping center on Temecula Parkway. An easy landmark is Temecula Valley Hospital as we are directly one block south of the hospital. We have a generous parking lot with easy access for the handicapped.
Our studio is warm and inviting with a single yoga room with a custom padded floor. Our classes are 98 degrees and 40% humidity (Sculpt is 94 degrees & no added humidity). We honor silence in the yoga room before and after class and invite you to arrive early to utilize this energetic space to meditate or just relax.
Our mission is to empower individuals to expand their lives mentally and physically through yoga. It brings joy to our hearts to help others live a healthy, joyful and abundant life. HYHY offers a safe haven and opportunity for self discovery to those we serve, our instructor and our community.
What makes your instructors unique?
All of our instructors are trained to give clear and precise language formulas, creating a safe environment for our students. Many options are offered throughout our sequences to accommodate every level of yogi from beginner to advanced. We believe the use of blocks and straps are a sign of strength & body awareness. Each instructor feels a deep connection to their students; a guide to help you grow in your practice, on the mat or off the mat.
50% of our current instructors received their training through our very own 200-RYT Teacher Training program credentialed through Yoga Alliance. We have a 5 star rating and are listed in Yoga Alliance's National Registry as a Registered Yoga School.
What do your members say about HYHY?
Our number 1 compliment we hear from our students is "I love the vibe here". Second is the health benefits our members have experienced since beginning their practice at HYHY.
"I've been dealing with lower back pain for years and this past month it has gotten worse, but after 4 classes, I am able to be on my belly for more than 5 minutes…something I have not been able to do in years! I love the staff, the atmosphere and most of all the various times they have classes. Just an amazing place!"~Irene Aguilar.
"I would recommend hot yoga for anyone with joint back shoulder pain it is the best to open up those areas and relieve some pressure by doing simple yoga I never imagined I would feel so cleansed and good after a mat session with Becky or any of the instructors."~Pamela Zook Spangler
"My yoga experience began after a conversation with a physical therapist when I was rehabilitating an injury. I had other friends prior to that tell me I should try yoga for flexibility. I do cross-fit and try to maintain a high level of fitness for a physically demanding career. I read some articles and watched the videos about the benefits of yoga. People raved about the whole mind-body experience. I discovered Hot Yoga Healthy You close to my home and that they offered a free week. I was like, what do I have to lose, and went for the free week. Let me say that my first class I was hooked! Honestly, I had an emotional release in my body on my first practice session. Ok! I get the whole mind-body thing now! I came out if my first class as if my brain had a 'reset'. I felt clear minded and felt an amazing calmness. I have been going ever since. In fact, I have taken a break from my high level of training to focus on yoga and my flexibility. As for the staff at Hot Yoga Health You! Simply amazing! What a friendly professional group of yoga instructors. I feel completely welcomed and supported in my practice. I wish I would have discovered yoga years ago. I will be a yogi forever. I high recommend HYHY. You must try the studio."~Stephen Braucht
"My favorite place when it is time to exercise. I love everything about the place, the studio is nice and clean and the instructors are wonderful, especially Heather and her cold towels.
I am so happy that I found this studio, now I really enjoy exercising."~Gabriella Cirby
Tell me about your next event and where we can follow you online:
On March 18th, 2017 we are giving back to our members and community with a special day of celebration! Our client appreciation day will include: Two live DJ classes by DTO music, Kick-off to our Renew Your Resolution Challenge (30 classes in 40 days), complimentary chair massage by JustBeYoga, Health&Wellness Vendors; Beautycounter, Norwex, Nutrishop, and Kori Kryotherapy. Free food samples by Jimmy Johns & Jamba Juice. Plus special raffle give-aways, prizes and HYHY retail specials! Come for a Live DJ class by DTO or just stop by and spin the wheel for a prize! All are welcome!
https://www.facebook.com/pg/HotYogaHealthyYou/
Attention Yogis and Yoginis: Are you interested in doing a 5Q Interview?  Fill out your unique responses here.