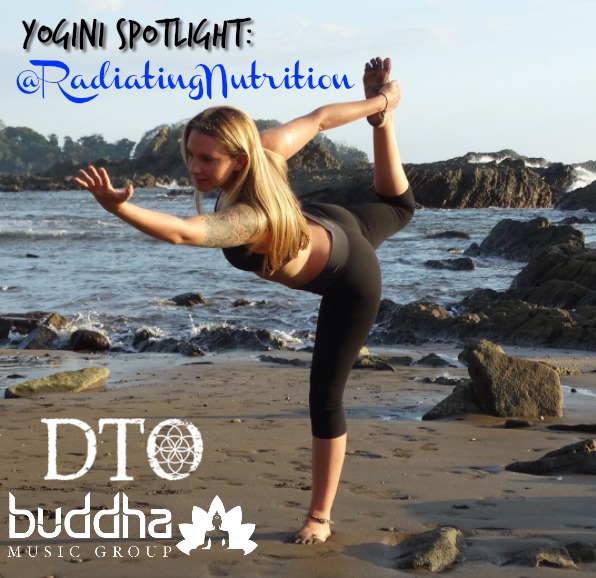 5Q Interview @RadiatingNutrition

5 Questions With Tara Smith
1.) Tell me about your personal journey with yoga and nutrition. Why is it important to you?
In the beginning I used yoga as physical therapy to heal from horseback riding injuries, but as my practice progressed I used yoga as a mental escape from reality. Quickly I discovered the energetic, or emotional healing associated with a consistent practice. During my first yoga teacher training I had an emotional breakdown and was finally able to confront issues from my early childhood. Yoga became more than a physical workout, it became a space to feel and heal my body. A place to push my boundaries, explore new limits and breakdown well built walls.
At the same time I was a nutrition science student at the University of California Davis with a very large work load. Even though I ate to the standards they were teaching me I was in constant battle of physical and mental fatigue. My travel coffee cup was never empty, and I was my weight fluctuated more than the ocean tide.

After college I decided to bio-hack my slightly chunky energetic roller coaster body. I had to step outside of the conventional nutrition realm and try things that would be considered 'wrong'. During my experimentation, I realized that the most important tool for bio-hacking is the have a mind-body connection. To fully understand the difference between being physically hungry versus mentally hungry, high vs low blood sugar, to feel when my body is slightly acidic and desperately craving dark leafy greens. When you are able to feel exactly how your body is functioning, and what it needs to perform at your highest level, it redefines the word 'health'.

In a nut shell that is why nutrition and yoga are so important to me. Yoga provided the tools to clear energetic blocks and allowed me to finally feel my body. That, combined with intuitive eating and a large spoonful of bio-hacking, then you can officially thrive.
2.) When did you first begin teaching yoga? What made you transition into this leadership position?
I was lucky enough to start teaching right after my first teacher training. I was practicing at a small studio and the owners were leaving the country for a couple weeks after the training. I was thrown into a situation where I responsible for the studio during the owners absence, and I loved it! Taking ownership and pride by sweeping the floors, cleaning the bathrooms, and all the other little duties heightened the teaching experience. 
I remember one night vividly closing down the studio. I walked into the room where we were practicing to turn off the fans, and I was embraced by the energy still resonating in the room. Right at that moment I knew I was making a difference. Small it maybe, but I played a hand in leaving an energetic fingerprint of peace and love. How freaking awesome is that??
3.) What makes your classes unique? 
I am mostly known for my private sessions, in which I incorporate the asanas according to what my client needs energetically and/or emotionally. In my opinion, I am pretty good and reading the body and seeing where there are energetic blocks and areas that need strengthening. In my group classes I bring a good balance of yin and yang poses, and to keep the class fun. Smiling should be encouraged more in most yoga classes. 
4.) How does music benefit your guidance in a yoga class?
Without music yoga can be a little awkward, unless you are a hard core yogi. From a metaphysical viewpoint, music heightens the yoga experience by intertwining the sound vibrations with your own energetic vibrations. It's just awesome.

5.) Tell me about your upcoming podcast and where we can follow you online.
I am very excited for my upcoming podcast named Radiating Health. It will include interviews from awesome professionals who have mastered to raise their vibration and live a radiating life. I want to give my listeners tools and hacks to upgrade their mind, body and soul. The podcast will be launched early fall 2016, but until then you can find me on my website at http://radiatingnutrition.com, Instagram and Facebook at RadiatingNutrition. Of course you can always friend my personal page Tara Smith on Facebook 🙂