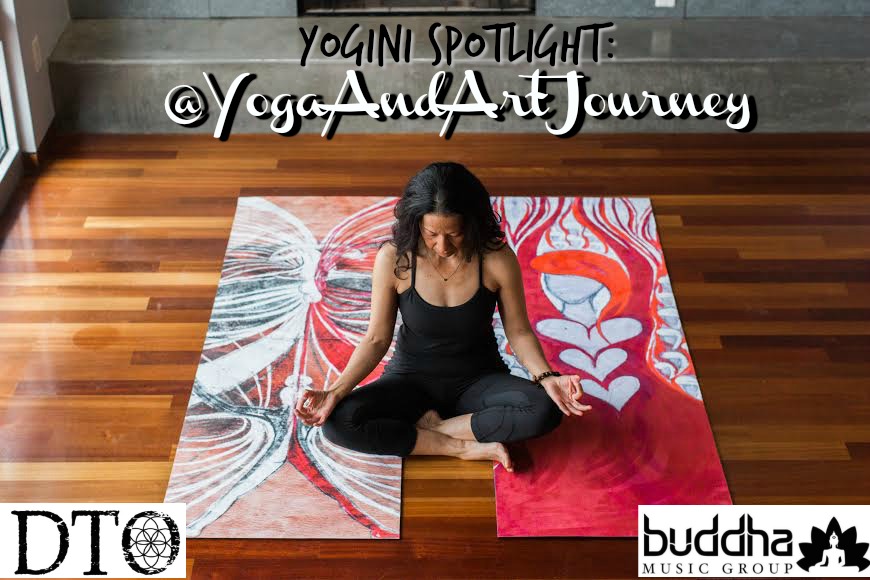 5Q Interview @YogaAndArtJourney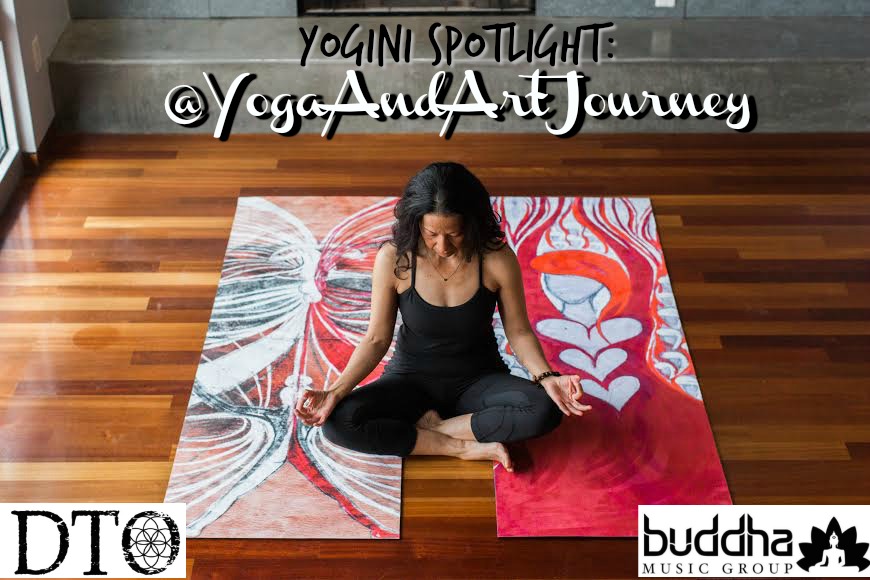 1.) Tell me about your personal journey with yoga. Why is it important to you?
It was only "physically" love at first vinyasa back in 2006… then years with no practice as I made up excuses one after another as I transitioned to motherhood. Fast forward to 2010 one Wednesday am, I fell SPIRITUALLY LOVE, DEEPLYat first breath of that first practice back. I remember saying in my head during class ~ It's no longer a challenge to stay the course, it's a DECISION.~ It's important to me for many reasons, but the if I need to narrow it down to 3 at least..it would be as follows: 1) Becasue of my relationship to myself, 2) The mother I want to continue to be for my daughter. 3) Yoga and Art Journey, a new art and soul expression that entered my life like a covenant since I took a yoga challenge in 2011.
2.) When did you first begin teaching yoga? What made you transition into a leadership position?
I'm not a regular yoga teacher, but I am a Mini Yogi (TRADEMARK) certified. I decided to take the certification to help me do yoga with my daughter at home. As for leadership position, I'd like to think that through yoga I've found a way to be a leader for myself in all that I do…because in the past I use to take more into account what others thought best I should do in regards to "big scary" decisions that I feared making all on my own. And today, taking that leadership position for my own has given me a chance to experience almost seem-like magical results from deciding to do things that I feared most before. Taking leaps of faith that I otherwise wouldn't have done had I not taken the leadership role for myself.

3.) What makes your classes unique?
The classes I take are unique each time. The teachers I take have such a beautiful way of expressing their own convictions behind teaching yoga. I get different greatness with each teacher I go to regularly or some that I am fortunate to catch and align with every now and then.
4.) How does music benefit your guidance in a yoga class?
Music plays a big role for me in my practice. It is my sail during class…it directs me through the entire flow of the class. Without music, for me, personally, is like listening to my playlist where the lyrics are read not sang. Something would be missing and the inner voice (ego) would sneak in. I need music to help me quiet the inner critic. Music floats me on and off the mat.
\
5.) Tell me about your next event and where we can follow you online.
I've participated at the Annual ESAW (El Segundo ArtWalk) in the last couple of years, and I hope to continue and have the opportunity to showcase the art pieces that literally wouldn't be here today if I hadn't taken on a yoga challenge back in 2011. A short film was created sharing the story of my journey on YouTube under the title " A Yoga and Art Journey: Filter " .
You can also connect with me via Instagram @yogaandartjourney and new website www.rhonnadelrio.com
The photos of me on the yoga mat are my own art in collaboration with Sankalpa Yoga Mats. Check them out for all your awesome Yoga Mat needs!
Attention Yogis and Yoginis: Are you interested in doing a 5Q Interview?  Fill out your unique responses here.