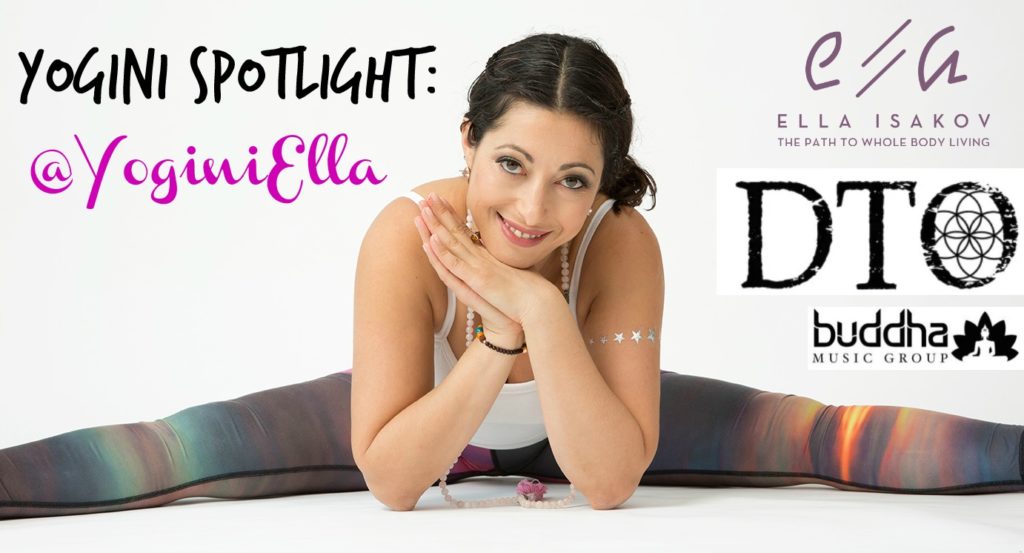 5Q Interview @YoginiElla
1.) Tell me about your personal journey with yoga. Why is it important to you?
My personal journey with yoga happened organically. I feel like yoga found me at just the right time, it helped me connect to my breath when I felt like life was making it hard to do so. In the end, yoga has taken me on a greater journey than I could ever foreshadow.  It brought me a greater connection to my body and it softened my heart. This softness allowed for so much abundance to enter, me shifting careers and love coming into my life. As yoga helped me heal my wounds, it brought light in, light that I know use to help others.  I have clients that are dealing with Cancer, in remission from cancer or dealing with another disease, and my journey encourages me to grow and evolve so I can continue to heal others.  It is all beautiful and mystical.
2.) When did you first begin teaching yoga? What made you transition into a leadership position?
I feel like my purpose in life has always been to teach. I was an elementary school teacher working overseas in several countries and even though I practiced yoga, I never imagined I would be teaching yoga, but you just never know what the universe has planned for you. It has been a whirlwind of transitions, but I have never felt so at home in my body, in my heart and in my life. I am where I need to be, helping people live pain-free more vital lives where there is joy in each day.  This life, right now, has never felt so right.

3.) What makes your classes unique?
My classes are unique in that I bring in a spiritual theme and have a deep intention to help others connect to their emotional body.  I get the themes from my meditations or reading, or from something that is happening in my life or the world.  An example is when its Thanksgiving it is a full practice for gratitude from the postures, to the words, to the breathing or meditation activity at the end of the class.  When horrific things happen in the world and we just cant make sense of it, and feelings of anger, frustration or helplessness arise within us, yoga is a powerful modality to help us process these emotions. So that theme would include a powerful flow where transitions may be unique which would keep the presence and focus, keeping the students engaged and being with what is happening within.  I bring myself into the journey with them, we are on this journey together. We are here to help each other heal and thrive.
4.) How does music benefit your guidance in a yoga class?
Music is an essential part of my yoga class. I spend quite a bit of time creating a playlist that would evoke an emotion, and each part of the class is different so each part of the playlist is important.
5.) Tell me about your next event and where we can follow you online.
IG: yoginiella
FB: Ella Isakov
Attention Yogis and Yoginis: Are you interested in doing a 5Q Interview?  Fill out your unique responses here.