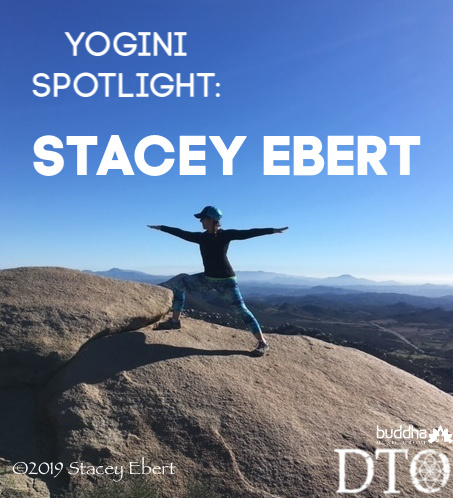 How did you get started in yoga?
I found yoga almost a decade ago. I lived in Long Beach, NY and came upon a beach yoga class. I started attending regular classes of vinyasa yoga in a studio and on the beach and continued with anti-gravity yoga with another instructor who opened my eyes to so many benefits of the practice. Three years later we moved to San Diego. Here I've found heaps of instructors who have shared their stories, worked magic with my scoliosis and helped my body, mind and soul develop strength, flexibility and immense gratitude. I now often travel with a yoga mat, have taken classes in some amazing spaces (including a rooftop in Zanzibar & on an atoll in the Maldives) and last summer, seven years after I found yoga in one city by the sea, I became a certified yoga instructor in another on the opposite coast.
What's your connection to Australia?
I traveled to Australia in 2003 on a 2-week tour and had no idea how deeply connected to the land and the people I would later become. Two years later I met my husband (an Aussie from Melbourne) on a trip in New Zealand. After a 4-year international relationship, we got married, chased the sun around the globe on a 10-month honeymoon and lived in Melbourne for sometime. Since then, we visit Australia regularly and have spent many memorable moments in various parts of the beautiful country. Australian products grace our cupboards, Aussie dishes are part of our regular meals and Aussie slang is built into our conversations. Many of our friends and family members live in Australia. It is quite literally our 2nd home.
What's going on in Australia?
Australia has been hit by devastating bushfires since September of last year. The long-lasting drought, climate change, arson, limited controlled burns, lightning, difficult to reach areas and a whole host of issues have cause disastrous destruction for land, people, property, livestock, habitats and native Australian animals. Animal hospitals and wildlife rescue organizations are overrun with animals that need care. People are out searching for wild animals that have been displaced from their habitat, lost their families or have been injured in the fires. Help has come from all over the world. While the wreckage is heartbreaking to witness, the global community aid is heartwarming.
When is your next event?
We have launched an Australian Bushfire Relief Fundraiser – YOGA FOR BUSHFIRE RELIEF. The 100% donation-based event is Thursday, the 30th of January at The Prado at Balboa Park. We have set up fundraising pages with WIRES Wildlife Rescue and Wildlife Victoria. These are Australian charities (one in New South Wales and the other in Victoria) who provide care and rehabilitation of animals and when possible, release back into the wild. Anyone can donate to these pages. Those who would like to join the class can donate and show their digital donation receipt at registration. Join Amy Caldwell (owner and lead instructor at Yoga One), DTO of Buddha Music Group and heaps of yogis at The Prado at Balboa Park for a fundraiser to help the Australian wildlife recover from these horrific fires. Click here to to RSVP to this free event, Jan.30, 2020.
How can people continue to help?
There are many ways to help Australia. Find reputable charities and give directly to them. Looking to do so immediately, please use the fundraising pages we've set up for WIRES Wildlife Rescue and Wildlife Victoria. Donate to organizations that are local, on the ground and will continue the work when this disaster emergency has ebbed. You can even 'adopt' a koala and find out how your donation can help him/her get back to their joyful life of eating eucalyptus and hanging out in gum trees. When the time is right and safe, if you can, visit Australia. Go to communities and volunteer with on the ground organizations or solely go visit and chat with locals and spend money. Spend some time at native animal sanctuaries and meet native Australian wildlife face to face. In San Diego and want to learn more about some of those native animals – head to the Australian Outback at the San Diego Zoo or Walkabout Australia at the San Diego Zoo and Safari Park.
More about Stacey Ebert & Social Media
is an event planner, writer, organizer, and educator who has traveled to over 50 of the world's countries. She met her Australian-born husband while on a trip in New Zealand, had an international courtship and later took a 10-month honeymoon to follow the sun around the world. Writing about adventure, journey and perspective–changing life shifts, she encourages travelers to take the leap, use the world as their classroom and get outside their comfort zones. She is a former high school teacher and advisor with a love of travel, hiking, yoga, dark chocolate and all things beach-related. Check out her blog at thegiftoftravel.wordpress.com.
Attention Yogis and Yoginis: Are you interested in doing a 5Q Interview? Fill out your unique responses here.