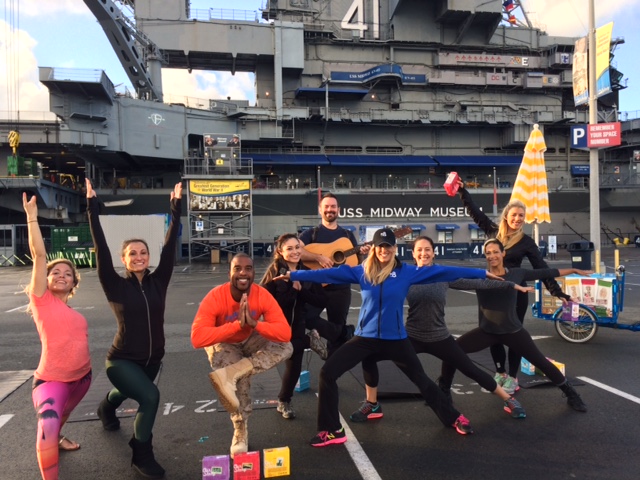 Stretch4Vets 11/21/15: Helping Disabled and Homeless Veterans
SAN DIEGO (CBS 8) – Embrace, a 12-year-old, San Diego based non-profit organization serving military veterans to partner with the U.S.S. Midway, Corepower Yoga, DTO and Buddha Music Group to launch the inaugural Stretch 4 Vets Yoga Event.   Click for CBS News VIDEO
The event, hosted by Embrace, will take place on Saturday, November 21, 2015 on the flight deck of the U.S.S. Midway raising awareness and funding through yoga to support our Embrace programs that serve homeless and disabled veterans.
STRETCH 4 VETS Schedule:
Check in begins at 7:15 am
Yoga begins at 8:15 am
Awards at 9:30 am
Access to USS Midway and Restrooms will only begin after 7:30am
REMEMBER TO BRING:
Please bring your yoga mat with you.
Pledge money manually raised should be in a sealed envelope
Sunscreen
In recognition of Veterans Day month and Thanksgiving, an estimated 2000 San Diegans will participate in a 75-minute yoga session, for all ages and skill levels. The class will be led by local Corepower Yoga instructors Amy Opielowski and Sonny Bagsic, accompanied by local musician Dave Kemp who will provide live tunes for the event.
"As a practicing yogi I have discovered the yoga community to be incredibly giving and selfless!  Since our organization serves veterans and San Diego is a military town, it made perfect sense to connect a population that is all about giving 'yogis' to another population of givers we can never do enough to assist veterans," says Sean Sheppard, Embrace Founder.
Part of what makes Stretch 4 Vets unique is that Embrace gives back 50% of net pledge funds raised to pledge teams representing student organizations, ministries, active military and veteran groups that participate.
For event and registration information, click here.