5Q Interview @Heatybug
1. Tell me about your personal journey with yoga. Why is it important to you?

I have been a fitness instructor for 18 years and am passionate about helping my students change their life. I believe in balance, I am the first to get in your face as a spin instructor, get down beside you in bootcamp to push you to finish those last 5 push-ups, and as your yoga instructor I will hold a safe space for you to let your guard down breath and honor your body within the 4 corners of your mat. Yoga is important to ME because YOU are important to me. It is the best gift I can think of to give to my students.

2. When did you first begin teaching yoga? What made you transition into a leadership position?
I began teaching yoga 13 years ago when I completed the first level of YogaFit training with Beth Shaw the creator of YogaFit. It is a fitness based yoga that is easily encorporated into a gym setting which was perfect for the path I was on as a fitness instructor. I knew I wanted to dive in deeper and complete my 200 RYT so I could teach in a studio. Fast forward to spring of 2016 when I finally accomplished this goal and have been teaching at my home studio Hot Yoga Healthy You for almost a year now!

3. What makes your classes unique?
I deeply want to create an experience for you to be able to escape for an hour, and then return to your day feeling a sense of calm, connection and confidence. Know that you are important and you deserve an hour to reconnect with YOU! And yes I also want you to build strength sweat a ton smile and have fun!
4. How does music benefit your guidance in a yoga class?
I am CRAZY about my music!! It sets the tone of your class, it inspires me as a teacher and hopefully inspires my students as well. I've been know to dance a little in class,
yoga does not always have to be so serious invite in a little fun and have an open mind sometimes you just have to turn the music UP and just "LET GO".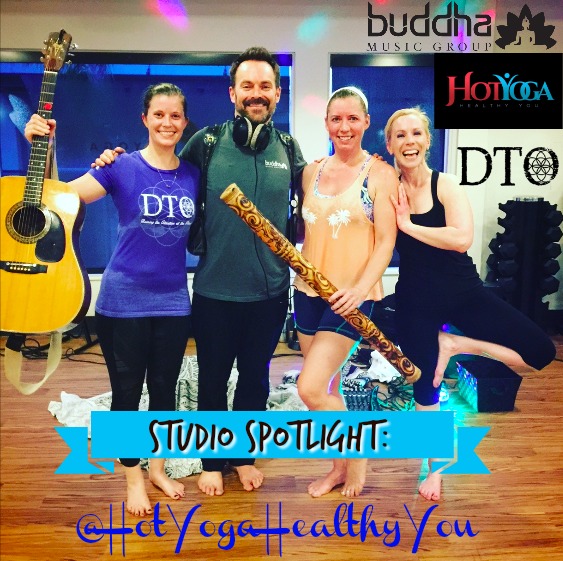 5. Tell me about your next event and where we can follow you online.
You can follow me on instragram @heatybug or Facebook Heather Young-Burleson
Check out my teaching schedule on Mindbody: Hot Yoga Healthy You and My Garage
Attention Yogis and Yoginis: Are you interested in doing a 5Q Interview?  Fill out your unique responses here.